Frequently Asked Questions
Ordering
You can come past our office during business hours to view our various range of samples.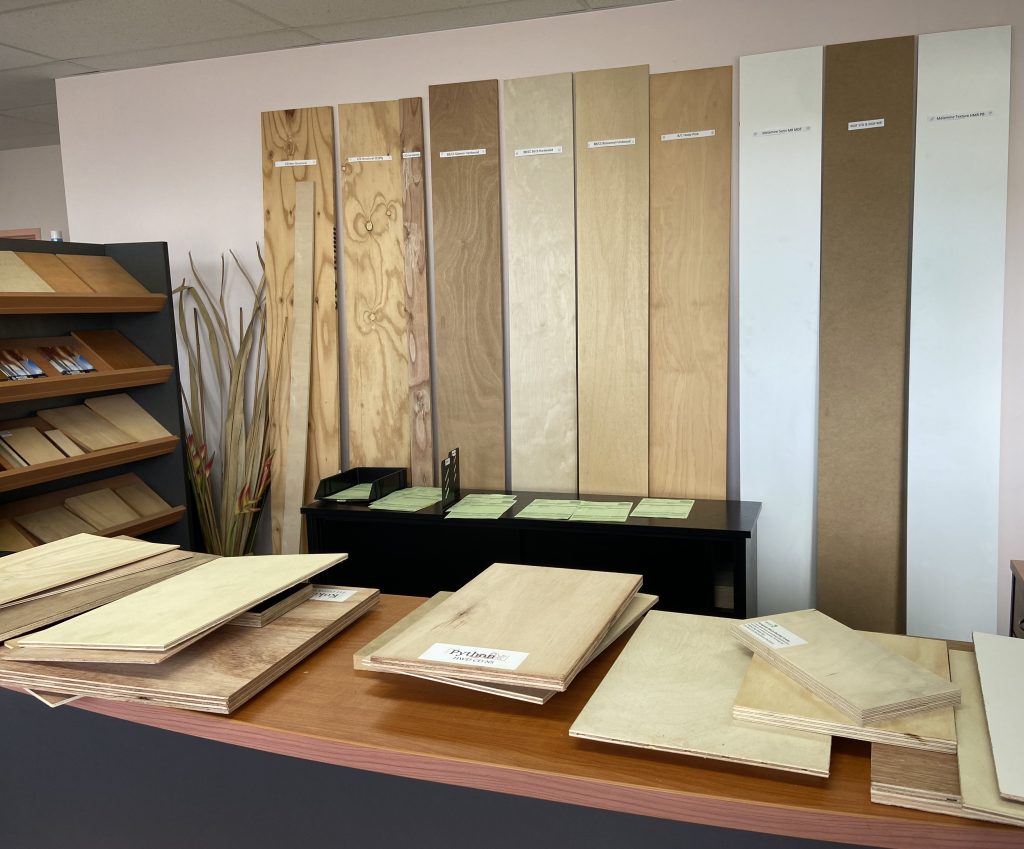 In most cases we do, however please check on the relevant pages if this is a commonly held item. We recommend calling prior to confirm that stock is available, especially if you are travelling a fair distance to see us.
Do you sell plywood wider than 1200mm?
Do you sell plywood thinner than 1200mm?
Do you sell 900mm wide plywood?
Do you sell 3000mm / 3 metre length sheets?
Do you sell 1500mm / 1.5 metre wide sheets?
Do you have a crane truck?
No, not in our fleet. However, we can organise one through a local timber company.
Can I just turn up to purchase?
Yes, you can just turn up. Once payment is sorted, one of our storemen will pick your order. We do, however, prefer if the invoice is sorted prior to collection, so we can have your order ready for you.
Can I come in to have a look at the Plywood?
Yes you can, we have most of the sheets in our office for you to see for yourself before making a selection.
Can I have a price on a sheet of Marine Plywood?
We always start with, what's the application/ do you necessarily need plywood to the marine standard? In most cases customers are after a durable plywood with an A-Bond Marine glue such as the CD Structural Hardwood or BB Hoop Pine, alternatively we can offer the Gaboon Marine Plywood to the BS1088 standard. If so, please drop us a line in the enquiry box & we can email a PDF quote to you.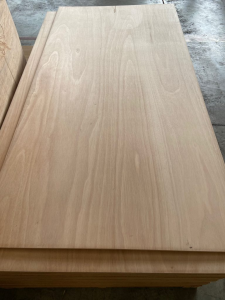 Non-Listed Items & Services
Sorry, we do not offer a cutting service, please visit our Directory.
Sorry, we do not offer this service, please visit our Directory.
Do you sell black PVC Express Joints?
We recommend speaking with BetaBoard about the Hardie™ 6mm PVC Eave Exp Jointer 3000mm
This can be used to create the Shadowline effect between the plywood sheets.
This is the thickest product on the market that we know of, please email us if you know of others.
Do you sell container floor ply?
We do not sell the true container floor plywood, this is a product sold by ANC Distribution. If you are replacing ply in a container that won't be having forklifts driven on top, our 28mm BB/CC Hardwood would be suitable.
We do not normally stock offcuts; however, sometimes they come through and are offered on our Specials page.
Do you sell Bendable ply?
Do you sell Bendable formply?
Do you sell Bendable MDF?
Do you sell Birch Multiply?
Yes, we have started to stock this again, please visit our Birch Multiply page.
Alternatively, we can offer is the Birch faced hardwood which has thinner face veneers and a Eucalyptus core veneers, unlike the Birch Multiply which has equal Birch veneers throughout including thick outside veneers.
Do you sell small pieces?
Sorry we don't sell smaller pieces. Although most of the time we have damaged sheets on hand which we can do a special on.
No we don't sorry, you can try Matilda Veneer.
Do you sell other types of moulds & profiles not listed on your website?
We recommend speaking to BetaBoard who either stock or can source these profiles & moulds – such as corner moulds.
Do you sell noise wall plywood?
For this particular product, we recommend trying Evolution Forest Products.
Do you sell edged melamine sheets?
No we don't sorry, only full sized sheets of melamine MDF and melamine Particle Board with the raw edge. You can purchase the edge tape from Surteco & iron-on this edge tape yourself.
Do you sell random grooved plywood?
No we don't sorry, nor do we know who does. If you do know of any company that do sell this product, please let us know so we can send enquiries there way as we regularly receive calls about it. Your best bet would be to try a caravan repair company.
No we don't sorry, please visit or directory.
Not we don't, however the closest we can offer is the Gripdeck Non-Slip Formply.
Do you sell Film Faced Plywood?
Do you have pricing on your website?
No, we don't have prices listed on our page. However please shoot us an email or drop us a line in the enquiry page at the bottom of the page with what you're after, quantity & delivery suburb (if applicable) and we will email back the price in a PDF quote within a few business hours.
Do you offer a design service?
We are not engineers or builders so we can only assist with recommending options to the best of our ability. Unfortunately, we're unable to advise quantities based upon building plans/ drawings.
No we don't sorry, however can have a Delivery service that can deliver to your door.
Do you sell scarf jointed ply?
Technical
Can polyester plywood be used in a bathroom application?
This product is not designed for use in wet area applications. We recommend a specially designed bathroom panel such as Laminex Aquapanel.
Can I use plywood for external cladding?
The only plywood we recommend for this application is Shadowclad due to its LOSP H3 treatment and rough sawn finish. Structural plywood with an A-Bond marine glue can be used but it's subject to cracking and crazing over time even if painted and the longevity of the sheets depends on the durability of timber specie used in the making of the plywood. You can read more on our Blog.
Can I use plywood outside?
Plywood can be used outside; however, you should know how plywood reacts when fully exposed. Although it may be a 'Marine Ply' and/ or has 'A-Bond marine glue', plywood is still subject to surface checking (as per the below photo). Small splits occur on the top veneer that is exposed to the sun as it expands and contracts over time.
In reference to the above question, 'Can I use plywood for external cladding?', we recommend Shadowclad as it has a bandsawn finish which changes how the top veneer expands & contracts and subsequently reduces the risk of surface checking.
What thickness do I need for plywood flooring?
Below is an extract from page 30 of the ECOPly Installation Guide, for more information and please consult with your builder/ engineer.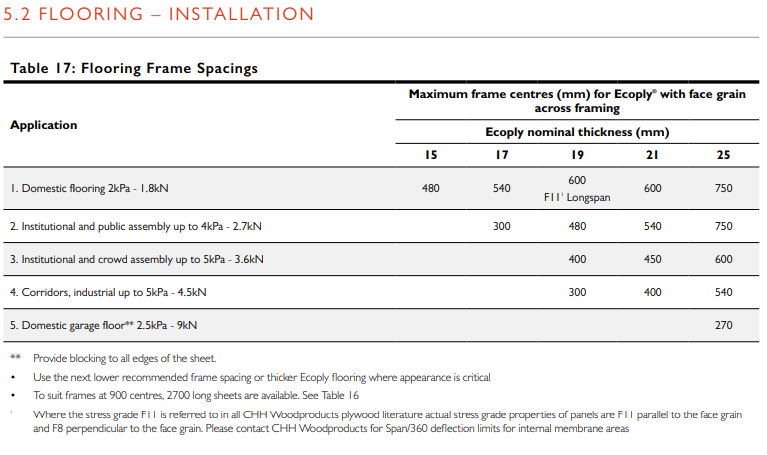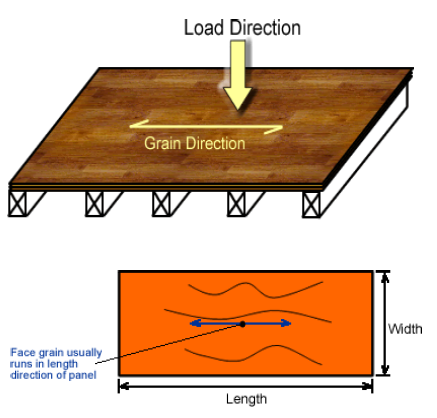 What can I do when mould is growing on the ply?
Surface mould occurs when the moisture content of the plywood exceeds 18% in wet & humid conditions. Although it doesn't affect the integrity of the plywood, it poses a health hazard if not remedied. Please visit our blog on how to prevent it from occuring and eliminate any current mould problems.
What set out should be utilised for affixing plywood as ceiling panels?
Common thicknesses when the face grain runs across the framing, for given ceiling batten widths: 9mm ply for 450mm & 12mm for 600mm. For more information please view Austral Fixing Set Out and consult your builder/ engineer.
How long can plywood be outside during construction subject to rain wetting?
An extract from ECOPly Installation Guide:
"Untreated Ecoply will withstand a reasonable amount of rain wetting and exposure during construction for up to three months. In extreme weather conditions of high temperature and/or high rainfall this period may be less. Appearance issues such as discolouration and face checking of the sheet surface can be expected if Ecoply is exposed."
How to cut Plywood/ MDF/ Particle Board with a circular saw?
It's recommended to use an ultrafine blade with a high number of teeth. The board can be taped, and best results are achieved if a scoring cut is made to prevent chipping, especially on melamine board.
What plywood should I use for building cabinetry?
For a flat sturdy plywood that will stray straight, Birch Multiply is the best for the application (currently unavailable). Second to that is our hardwood plywood range such as the Makai Hardwood.
Firstly, we can't guarantee that sheets will remain flat unless fastened. However, CD Structural Hardwood & Makai Hardwood with a solid Eucalyptus core are the most sturdy & flat. Pine is more prone to bowing & warping in comparison.
Which plywood is Greenstar Certified?
What's the best ply to skin a skate ramp?
The 4mm brace ply is the recommendation as it is durable, flexible and cost effective to replace the top layer as required over time.
Is Plywood and/ or MDF combustible?
As per this PDF from Briggs Veneers, being a wood-based product, neither MDF nor Plywood are rated as "non-combustible'.
As well an extract from Fact Sheet Fire Performance EWPAA:
Plywood is quite acceptable as a material used as part of a fire resisting system provided it is combined with other materials so as to meet the fire-resisting requirements. This can be achieved by combining plywood with materials deemed non-combustible such as fibre cement or fire-protective grade plasterboard.
Coating
Do you recommend any type of coating?
We only recommend using a water-based coating as oil-based can react with the glueline. You can read more on our Resources page including different brands, under staining options.
However, in semi-exposed applications, it is essential that a mould preventer additive is used to ensure against mould growing on the coating. This can be purchased from Bunnings.
What coating should I use?
A water based/ acrylic paint as oil-based can react with the glue line.
Can I use an oil-based coating?
We strongly recommend opting for a water-based coating option, as the oil can sometimes react with the glue line leading to delamination (as pictured below). Further, in an appearance application, oil-based products have the potential to pull the black glue through the face veneer, darkening it in areas.
The only product reported to have worked on the phenolic face with our customers is B-I-N Primer Sealer by Zinsser.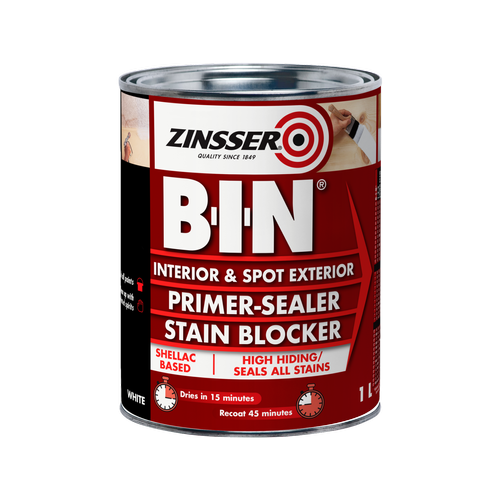 Miscellaneous
Monday to Thursday 7:30am until 4:00pm
Friday 7:30am until 1:00pm
Where is your price list?